There is a dangerous trend emerging in small business cyber security…
So many SMEs like you are working in the belief that "it won't happen to me.."
But we enter into 2017 you cannot get away from the continued warnings about cyber risk and cyber threats, the amount of information is frightening.
Are you carrying on with known or unknown weaknesses in your businesses systems and processes?
If you know the weaknesses then you only have yourself to blame, but the scariest problem is the weaknesses you don't know that make you vulnerable to a cyber attack.
The Landscape of Small Business Cyber Security
The landscape for cyber threat is rapidly changing as is the nature of a cyber criminal too.
No longer is it a chancer trying to hack your system because they can.
Now it's as likely to be an organised professional criminal with multi millions as the prize; and of course the more they gain the better and bigger their cyber and hacking abilities become.
Stats released for 2016/2017 around cyber threats were astonishing and in particular the growth in the last 3 months of the year.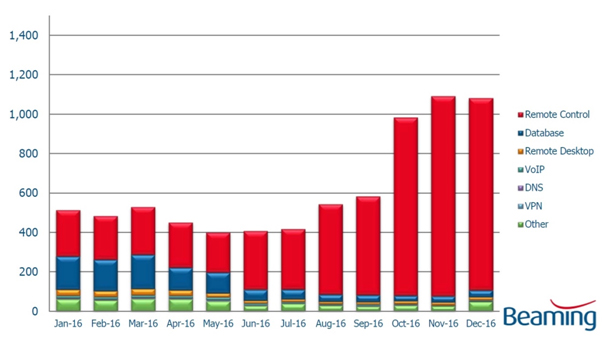 Why Is Small Business Cyber Security A Problem?
So why is it growing so fast?…
Probably because the criminals are benefitting, making money out of your innocence or belief that "it won't happen to me".
Whether we like it or not, whether we understand the threat or not, you need to start thinking about protection because it is going to happen to you.
Insurers in the UK too are seeing the impact with more businesses wanting cover and more and more claims being made…
Estimations are that around 75% of SMEs don't insure against cyber risk
This is not going away, in fact it's rapidly growing. What you will face in 2017 is likely to bigger and worse than in 2016.
And all this ahead of the new GDPR legislation that changes data management requirements from 2018 that will add further considerations for organisations.
This is not a scare mongering tactic but a genuine need to get you all to become more aware and protect your business assets. If you don't you could easily find yourself one of the ever increasing statistic.
What You Can Do About Your Small Business Cyber Security…
There are some excellent software and IT solutions out there to help you protect your business in cyber world but:
How much does your business need/have to invest in cyber protection?
What is the right solution(s) for your business?
How do you know if your current systems and processes are keeping you secure?
Who do you turn to to seek advice?
These questions aren't easy to answer, many small business would prefer to delay such decisions… until it's too late.
So don't fall into the "it won't happen to me' trap and seek out advice.
Advice can come from initiatives such as Get Safe Online and National Cyber Security Centre or from your IT supplier or attend cyber awareness events as all will help you become safer.
AND remember it is you, the business owner, that need to b doing this not your IT team.
As Elizabeth Denham said when applying a record fine to Talk Talk in 2016.
"Today's record fine acts as a warning to others that cyber security is not an IT issue, it is a boardroom issue. Companies must be diligent and vigilant. They must do this not only because they have a duty under law, but because they have a duty to their customers."
At your next board meet or monthly review of your business ask the question "what are we going to do about our cyber threat in 2017 and who are we going to turn to to help up us"
Still Unsure About Your Small Business Cyber Security?
At Risk Evolves we provide advice and guidance to SMEs that delivers structure and ongoing support, providing the Freedom to Innovate and Confidence to Grow.
We will work with you to implement Cyber Essentials, a government-back certification that reduces the risk to your business of Cyber attack.
Many companies are reviewing their Supply Chain providers in order to improve their resilience to the cyber threat. By taking simple steps to reduce your risk of cyber disruption, you will be demonstrating to your customers that you are serious about protecting information.
If you are unsure how 'at risk' you are they please click this link for a FREE cyber security analysis.
If you want a warm and friendly expert to cut through the jargon giving you the facts then please get in touch.
Save